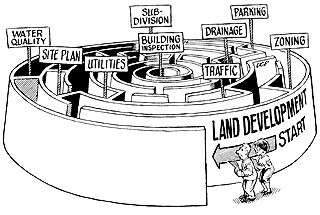 The City of Tampa, in an effort to provide a more logical and understandable regulatory framework, has proposed its first Land Development Code. Section 163.3201, Florida Statutes, of the state of Florida's "Community Planning Act" requires that a local government adopt land development regulations or consolidate regulations into a "land development code" in order to implement and enforce their comprehensive plans. The City's land development regulations were located in numerous unrelated code sections and rules. This lack of integration made it difficult for not only regulators and legislators to understand and apply their codes, but also caused confusion, inefficiency and frustration for the regulated community and property owners.
The "new" land development code will take effect in August 2015 and will consist of nine (9) different existing code sections including:
Chapter 17.5, Article III, section 17.5-41 et seq., Concurrency Management System;
Potable Water Wellfield Protection Ordinance;
Section 21-6, Alternative Materials and Methods of Construction, Section 21-7, Borrow Pits, Mines, Section 21-8, Drainage Patterns, Section 21-9, Protection of Public Drainage Systems;
Chapter 22, section 22-134, Transit Stop Facilities, and Chapter 22, Section 22-314 et seq., Driveways;
Subdivision procedures set forth in chapter 27;
Sections 25-68 through 25-75, Relating to Multi-modal Transportation Impact Fees;
Section 26-118, Required use of Sanitary Sewer; Section 26-128, Technical Standards Adopted;
Chapter 27, Zoning and Land Development; and
Chapter 43 of the 1971 Code, Zoning.
If you have any questions concerning these changes and how they may affect you or your property, please contact our law firm. (813) 223-5050
Share